Data nuggets are classroom activities written by scientists for K-12 and undergraduate students. My Data Nugget focuses on the size of adhesive toe pads across invertebrates and vertebrates, incorporating evolutionary and physics concepts.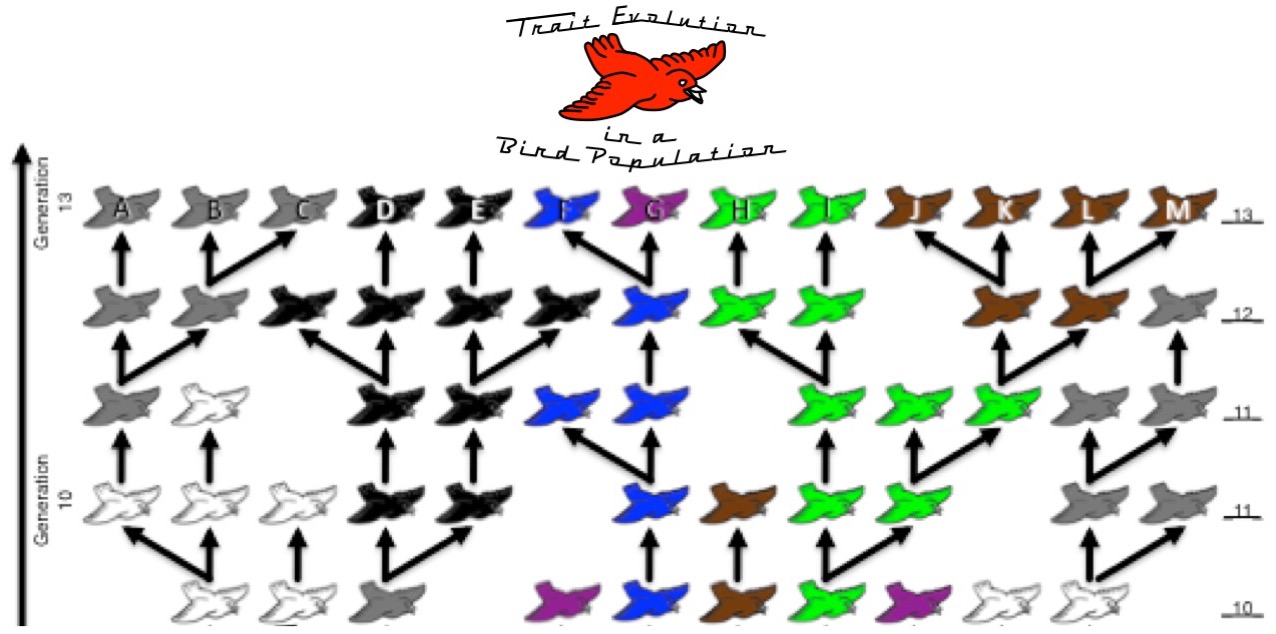 Evolution Activity: Trait Evolution in a Bird Population
In this highly flexible, yet simple activity, students track the color of individual birds in a population as it experiences drift and natural selection. This activity incorporates concepts of population biology, evolution, and tree thinking. Teachers can gear this activity for middle school, introductory undergraduate biology, or even evolution courses, introducing more advanced topics as appropriate.
Click here for activity sheets and an instructional presentation. We're always looking for feedback so please let us know if you have any questions or comments! 
General Biology – Mississippi University for Women BSB 101/101L
General Biology – Mississippi University for Women BSB 102L
Cells & the Evolution of Life Lab – University of Idaho BIOL 115
Evolution – Mississippi University for Women BSB 346/346L
Evolution – Michigan State University IBIO 445
Special Topics – Mississippi University for Women BSB 485/485L
Special Topics – Mississippi University for Women BSB 485
Herpetology – University of Idaho BIOL 489
Ecology and Population Biology Lab – University of Idaho BIOL 314
Animal Behavior – University of Idaho BIOL 478
Teaching Philosophy
While teaching, I design my courses to be active and student-centered, encouraging students to learn the same way scientists do, by asking questions and evaluating testable hypotheses. I strive to encourage students of all backgrounds to become excited about science topics and careers. I promote critical thinking through inquiry-based learning using interactive activities. With these skills, students better understand the world around them and tackle questions above and beyond the material presented, becoming more scientifically literate members of society and potentially pursuing scientific careers.
Teaching Evolution
Evolution is sometimes seen as a controversial topic.  While working with students or the public I feel its important to stress the physical evidence we have for evolution we see every day including information from geology, genetics, nuclear chemistry, domesticated organisms, and paleontology. As with any widely accepted scientific idea, the process of evolution has been evaluated over and over again using testable hypotheses and the scientific method. It is also important to highlight the difference between objective observations, testable hypotheses, and ideas of philosophy and personal faith. These are all powerful tools in which we all use to come to conclusions regarding the world around us, but it is important to acknowledge their strengths and weaknesses. For more information navigating discussions of evolution and faith, I highly recommend Evolution, Science, and Religion: Making Your Way through the Tangled Bank by Dr. Louise Mead.