This semester I had the great opportunities to present my research as part of the MUW Provost's Faculty Symposium where I talked about my summer research in Hawaii looking at introduced lizard species.
I was also invited to speak as part of the MUW Gordy Honors College Forum Series. This presentation received a lot more attention! It was even featured in the local news paper the Commercial Dispatch.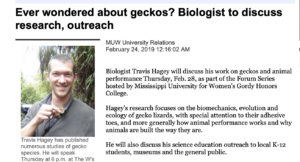 Lastly, the MUW press folks have started to hear about the research were doing and stoped by to do an article on it!